What is Research?
https://doi.org/10.3998/mpub.11560291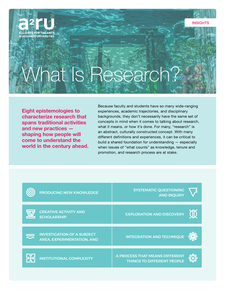 This research brief describes how faculty, staff, and students think about different forms of creative practice and knowledge production. Eight basic topics help to characterize research that spans traditional activities and new practices — shaping how people will come to understand the world in the century ahead.
Because faculty and students have so many wide-ranging experiences, academic trajectories, and disciplinary backgrounds, they don't necessarily have the same set of concepts in mind when it comes to talking about research, what it means, or how it's done. For some, "research" is an abstract, culturally constructed concept. With so many different definitions and experiences, it can be critical to build a shared foundation for understanding — especially when issues of "what counts" as knowledge, tenure and promotion, and research process are at stake.
With this landscape in mind, a2ru conducted interviews with faculty, administrators, and students at over 38 universities. These semi-structured interviews explored topics ranging from programs and curricula to leadership, collaboration, resources, incentives, tenure, and more. This brief synthesizes responses to the interview question, "What is research?"
TABLE OF CONTENTS
WHAT

IS

RESEARCH? Insights From Faculty, Staff, and Students

KEY

TAKEAWAYS

A Tree of Knowledge
Producing New Knowledge
Systematic Questioning and Inquiry
Creative Activity and Scholarship

MODES

OF

SCHOLARSHIP

Exploration and Discovery
Investigation and Making
Integration and Technique

TRADING

ZONES

AND

INTERACTIONAL

EXPERTISE

RECOGNIZING

INTEGRATIVE

RESEARCH

Institutional Complexity
POST-NORMAL

RESEARCH

A Process That Means Different Things to Different People

RESEARCH

AS

PACE

LAYERS

Topic Insights and Comparisons
Methods and Interpretation Notes

QUESTIONS

FOR

UNDERSTANDING

AND

PRACTICE

PEOPLE